IGIFTBAG IS THE PERFECT WAY TO DELIGHT YOUR EVENT ATTENDEES AND SHOWCASE YOUR PARTNERS
BEAUTIFUL GIFTS. HIGH ENGAGEMENT.
We've raised the bar for sponsored digital gifts. We've included a creative gift option for every promotional and business goal your sponsors may have—whether to raise brand awareness, generate sales or educate customers. Sponsors create gifts for your iGiftBag using our automated online tools called Gift Apps. And, they are as simple to use as creating an online party invitation. Our Gift Apps enable sponsors to create beautiful gifts—a discount offer, an expert download, an expo promotion, a giveaway, among others— in a matter of minutes and review and edit them in real-time.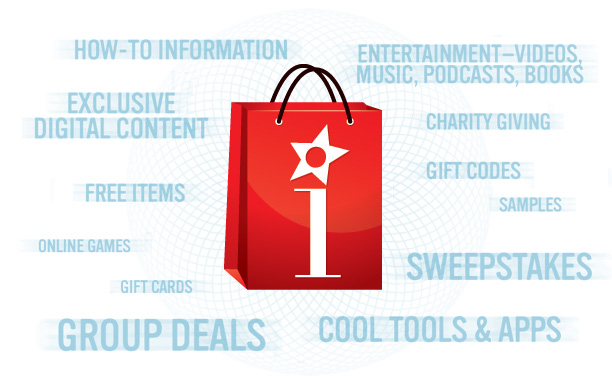 And, it's just as easy for sponsors submit an order for custom gift designed by igiftbag if you want to include custom-designed gifts: Sponsors select their Gift App and design preferences, enter their gift's details, upload brand images and receive a custom designed gift in a few days comparable in quality to a world-class interactive advertisement.

SPONSORSHIP SALES MADE EASY.
It's easy to integrate the igiftbag seamlessly into your sponsorship sales activities. You can setup a sponsorship sales web page in a minutes to promote your igiftbag to all of your sponsors and enable them to learn about the igiftbag's features and benefits, highlight key information about the sponsorship rates you elect to charge, and provide the online tools for them to instantly create their gift offer.

REAL-TIME ANALYTICS.
With igiftbag's state-of-the-art analytics reporting, you can monitor the results of your igiftbag in real-time. Called "the best real-time reporting of a promotion,"* your customized dashboard displays a ranking of your gifts and provides detailed results on click-thrus and click to actions of every item within your igiftbag, among other metrics.

SHOWCASE EVENT PRODUCTS, PERFORMERS, EXPERTS.
Use an iGiftBag slot to showcase an important event promotion for your target audience. While you may want to sell most of your iGiftBag slots to sponsors, you can also use slots to promote an event product, an expo booth, expert, performer or event happening.

DRIVE EVENT OR EXPO TRAFFIC.
The iGiftBag is a powerful tool to drive event, exhibit, show or expo traffic. Give your event sponsors an engaging touchpoint to reach attendees before your event with offers, games and free items designed to drive traffic to specific venues, expo booths, sponsors or featured performers. We've created special gift apps to help your expo sponsors to use the igiftbag to drive sales and brand awareness.

ON-THE-GO, MOBILE "MY IGIFTBAG" ACCESS.
Enable your customers to access and use your gifts on-the-go through a locale on their mobile phone or tablet with our personalized "My igiftbag" gift save and plan features.

IDEAL FOR EVENTS OF EVERY SIZE AND BUDGET.
BASIC TURNKEY TO THE EPIC CUSTOM: TWO IGIFTBAG OPTIONS
The igiftbag's flexible format makes it the most dynamic and engaging digital rewards and sponsorship product to hit the market! Whether adopted as an event virtual goodie bag, deployed as a loyalty and rewards program, or as a sales and fundraising tool, the igiftbag can can be used by a wide range of organizations— events, publishers, membership organizations, sports and entertainment brands, schools, charities, venues, hotels and tourism promoters, among others.

SECRETS OF A GREAT IGIFTBAG.
After three years of delivering virtual goodie bags for events, we know that a truly "ultimate" virtual goodie bag must exceed a physical goodie bag in creating an engaging, worthwhile experience—not be just be an online substitute for one.
Here are two requirements. Can you fill in the blanks?
1. MAKE IT _____!
2. Raise your igiftbag's ______ score!
To get the answers to these and other gift questions, contact us to see a demo, receive a FAQ and learn more about what gifts could be inside your sports league and team igiftbag.