ONE ENDURANCE SPORTS IGIFTBAG DOES NOT FIT ALL!
AN IGIFTBAG FOR EVERY TYPE OF EVENT.
We've designed specialty igiftbags for every type of endurance sports event, filled with targeted gifts, expert training and nutrition content, revenue share deals and promotion options just for your sport. Your event participants DO NOT want a virtual reproduction of a physical goodie bag. They want something different and more engaging. Only an igiftbag leverages the power of gifts to raise the virtual goodie bag to a higher level level of sponsorship satisfaction and participant engagement.

BEAUTIFUL GIFTS. HIGH ENGAGEMENT.
We've raised the bar for sponsored digital gifts. We've included a creative gift option for every promotional and business goal your sponsors may have—whether to raise brand awareness, generate sales or educate customers. Sponsors create gifts for your igiftbag using our automated online tools called Gift Apps. And, they are as simple to use as creating an online party invitation. Our Gift Apps enable sponsors to create beautiful gifts—a discount offer, an expert download, an expo promotion, a giveaway, among others— in a matter of minutes and review and edit them in real-time.

SHOWCASE EVENT PRODUCTS, PERFORMERS, EXPERTS.
Use an iGiftBag slot to showcase an important event promotion for your target audience. While you may want to sell most of your iGiftBag slots to sponsors, you can also use slots to promote an event product, an expo booth, expert, performer or event happening.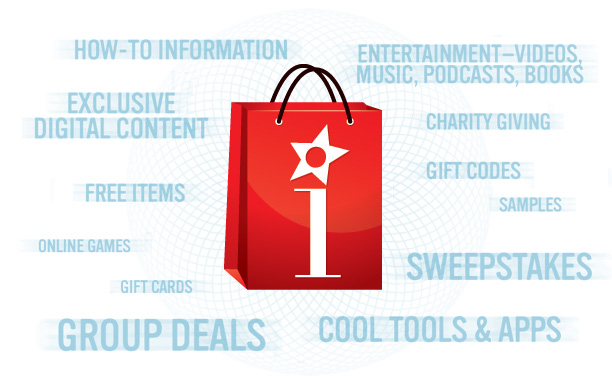 SPONSORSHIP SALES MADE EASY.
It's easy to integrate the igiftbag seamlessly into your sponsorship sales activities. You can setup a sponsorship sales website invitation in a minutes to promote your igiftbag to all of your sponsors and enable them to learn about the igiftbag's features and benefits, highlight key information about the sponsorship rates you elect to charge, and provide the online tools for them to instantly create their gift offer.

POWERFUL CAMPAIGN AND GIFT MANAGEMENT.
Create a sales page invitation page in minutes for your partners and sponsors to learn more about creating a gift. Send custom Gift Invites to them. Track the responses and progress of your partners and sponsors on your RSVP and Manage gifts dashboards.

SPECIAL EVENT PROMOTIONS.
When you set up your igiftbag, you can add special event promotions and gifts from our selection of ten unique endurance event gift "apps." Create your own event store inside your igiftbag, showcase your sponsors' samples or a sponsor's post-event celebration!

GIFTS FROM NATIONAL PARTNERS.
You don't have to rely just on your local or national sponsors to create great gifts. Every igiftbag can be fully loaded with "wrapped" gifts from our Gifts Catalogues from leading endurance sports brands and media partners (discounts, deals, PDF expert tips, book downloads, expert videos, Mp3s).

RAISE YOUR IGIFTBAG'S ENGAGEMENT LEVEL.
As the pioneer of the virtual goodie bag in endurance sports, we've developed special techniques built-in to the setup and design to raise your igiftbags appeal and engagement level with your event participants.

REAL-TIME ANALYTICS.
With igiftbag's state-of-the-art analytics reporting, you can monitor the results of your igiftbag in real-time. Called "the best real-time reporting of a promotion," your customized dashboard displays a ranking of your gifts and provides detailed results on click-thrus and click to actions of every item within your igiftbag, among other metrics.

EASY SET UP AND DISTRIBUTION.
Set up your igiftbag in minutes and start the fun process of exploring all your igiftbag's gift options. Distribute your igiftbag to your recipients with email tools that are as simple to use as as creating an online party invitation. Whether you want to send your igiftbag invite using igiftbag's platform or your third-party email marketing provider, the igiftbag platform is fully integrated with the top email vendors to do both.

ON-THE-GO, MOBILE "MY IGIFTBAG" ACCESS.
Enable your customers to access and use your gifts on-the-go through a locale on their mobile phone or tablet with our personalized "My igiftbag" gift save and plan features

SECRETS OF A GREAT IGIFTBAG.
After three years of delivering virtual goodie bags for events, we know that a truly "ultimate" virtual goodie bag must exceed a physical goodie bag in creating an engaging, worthwhile experience—not be just be an online substitute for one.
Here are two requirements. Can you fill in the blanks?
1. MAKE IT _____!
2. Raise your igiftbag's ______ score!
To get the answers to these and other gift questions, contact us to see a demo, receive a FAQ and learn more about what gifts could be inside your sports league and team igiftbag.