LEVERAGE THE POWER OF GIFTS TO ENHANCE MEMBERSHIP ENGAGEMENT, RETENTION AND BENEFITS!
With an igiftbag, you add a dynamic, creative digital experience to your membership marketing! Showcase gifts from your partners and experts by adding an igiftbag to your membership acquisition, engagement and renewal strategies.

BEAUTIFUL GIFTS. HIGH ENGAGEMENT.
We've raised the bar for sponsored digital gifts. We've included a creative gift option for every promotional and business goal your partners may have—whether to raise brand awareness, generate sales or educate customers. Partners create gifts for your igiftbag using our automated online tools called Gift Apps. And, they are as simple to use as creating an online party invitation. Our Gift Apps enable partners to choose effective gift options and begin creating them online—a discount offer, an expert download, an expo promotion, a giveaway, among others— in a matter of minutes and review and edit them in real-time.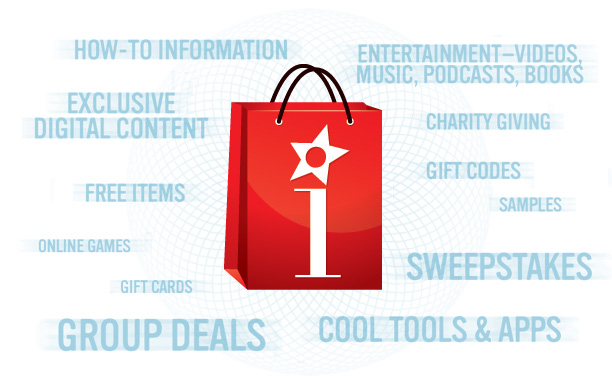 And, it's just as easy for partners to submit an order for custom gift designed by igiftbag if you want to include custom-designed gifts: Sponsors select their Gift App and design preferences, enter their gift's details, upload brand images and receive a custom designed gift in a few days comparable in quality to a world-class interactive advertisement.

SHOWCASE YOUR NATIONAL PARTNERS.
Showcase your partners by including them in your membership igiftbag and create a new sponsorship revenue stream. It's easy to integrate the igiftbag seamlessly into your partnership relationships. You can setup a partners invitation web page in minutes to promote your igiftbag to all of your internal and external partners and enable them to learn about the igiftbag's features and benefits, highlight key information and provide the online tools for them to purchase a gift slot and create their gift offer.

STUNNING CUSTOM DESIGN.
If you select the custom Epic igiftbag, all aspects of your membership igiftbag are custom designed, including email invites, gifts, customer gifts interface, a welcome screen message, Gift update Messages, among others.

POWERFUL CAMPAIGN AND GIFT MANAGEMENT TOOLS.
Create a partner invitation page in minutes for your partners and sponsors to learn more about creating a gift for your igiftbag. Send custom Gift Invites to them and monitor and track your partners' responses and progress of your partners on your RSVP and Manage gifts dashboards.

REAL-TIME ANALYTICS.
With igiftbag's state-of-the-art analytics reporting, you can monitor the results of your igiftbag in real-time. Called by a major hotel rewards igiftbag partner "the best real-time reporting of a promotion,"* your customized dashboard displays a ranking of your gifts and provides detailed results on click-thrus and click to actions of every item within your igiftbag, among other metrics.

ON-THE-GO, MOBILE "MY IGIFTBAG" ACCESS.
Enable your members to access and use your gifts on-the-go through a locale on their mobile phone or tablet with our personalized "My igiftbag" gift save and plan features.

DEPLOY YEAR ROUND WITH GIFT UPDATES.
Choose annual, quarterly or monthly igiftbag options to deliver gifts to your members. You can make your membership igiftbag available 365 days a year. Update and rotate new gifts and partners each month into your igiftbag. Schedule a monthly custom branded Gift Message alert to communicate to customers in their My igiftbag about new gifts that are available.

SIMPLE FLEXIBLE DISTRIBUTION.
Release your igiftbag to your recipients across multiple formats and platforms, including secure email invitations, Web and micro-sites, Facebook and Twitter.

SECRETS OF A GREAT IGIFTBAG.
After three years of delivering virtual goodie bags for events, we know that a truly "ultimate" virtual goodie bag must exceed a physical goodie bag in creating an engaging, worthwhile experience—not be just be an online substitute for one.
Here are two requirements. Can you fill in the blanks?
1. MAKE IT _____!
2. Raise your igiftbag's ______ score!
To get the answers to these and other gift questions, contact us to see a demo, receive a FAQ and learn more about what gifts could be inside your sports league and team igiftbag.